CT TANGO ENSEMBLE with Buona Sera Signorina, Nicola Cencherle (tenor) and Melanie Scholtz
28/11/2012
8:15 pm – 9:45 pm
CT Tango Ensemble presents "Buona Sera Signorina", featuring Melanie Scholtz – Jazz Singer & Nicola Cencherle – Tenor
Our own award winning & Internationally acclaimed Cape Town Tango Ensemble is taking us on another romantic journey. This show is not the usual "Strictly Tango" show that we normally see from them. This will be a real "cross-over" show. They team up with 2 vocalists – very well loved by the audiences and very different at the same time.
Nici Cencherle (Tenor) has charmed the audiences in South Africa and his native Italy on the Opera stage and other occasions for several decades.
Melanie Scholtz (Jazz Singer) is flying high in her carreer locally and internationally. After winning prize after prize on the Jazz scene in Europe we are absolutely lucky to catch her performing at home again.
CT Tango Ensemble also has 2 other additions to their team to match with the rest of the cast. Instead of the usual Violin, we will have a Saxophone. The drums are not really traditional for Argentinean Tango but very important in this show.
The Journey – you can take it just as a beautiful evening filled with Music under the Stellenbosch stars, or as the Journey of Tango music with all its influences of Mediterranean, African & Jazz cultures. You can expect to hear some well known Neapolitan songs, Jazz Standards and perhaps some Tango. And with the magic of music under the stars, we don't know what else might happen!!!???
Melanie Scholtz
Nicola Cencherle (tenor)
StanislavAngelov – Bandoneón, Accordion & Vibrandoneon
Daniel Shout  – Saxophones & Clarinet
Albert Combrink– Piano
Charles Lazar – Double Bass
Kevin Gibson – Drums
Prys/Price:R130/150
Tyd/Time:20h15
Duur/Duration: 90 min
Interval: 20 min
Tourist  friendly
Visit Melanie Scholtz's Website HERE.
Visit Oude Libertas' Website HERE.
Melanie Scholtz CV, (Resumé )
Melanie Scholtz started singing at a an early age. Coming from a musical family, she was exposed to different kinds of music as she grew up, and at age 17 she enrolled at the Opera School at the University of Cape Town, where she graduated cum laude in 2001. While studying opera and classical singing, Melanie continued to listen to and sing jazz as well, and is today an incredibly versatile singer. Whether it is jazz, pop, classical, r&b or electronica, Melanie sounds equally stylistically correct. In 2002, Melanie won the "Old Mutual Jazz Encounters", naming her "best jazz vocalist".
In the years following this, Melanie built a successful career in her hometown of Cape Town as well as in the rest of South Africa. She apperared on South African guitarist Jimmy Dludlu's album "Afrocentric", sang alongside Al Jarreau on "the Felicia Show" and sang the National Anthem in front of Nelson Mandela and millions of TV viewers for the Presidents Cup in George.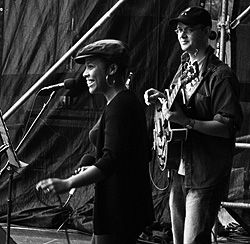 She performed two years running on SABC's "Woman of the year" awards and had concerts in Holland, Germany and Norway, as well as performing with Cape Town Philharmonic Orchestra, Sibonghile Khumalo, Joe McBride, Gerald Veasley and many more.  In 2012 Melanie notched up a triumph at the Jazz a Juan Revelation festival in the French Riviera town Juan-les-Pins, winning all three prizes.
Read more about Dan Shout HERE
Listen to Daniel Shout's Music HERE.
Visit Dan Shout's Website HERE.
Find Dan Shout's Facebook Fanpage HERE.
Buy Dan Shout's Music HERE